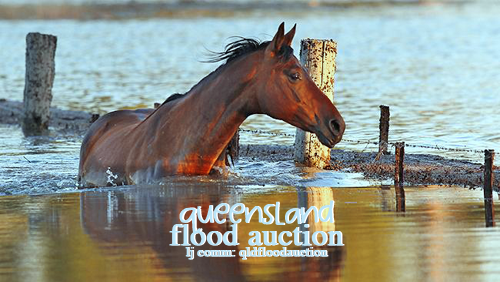 Banner by
accrues for
qldfloodauction

A fandom auction to help victims of the horrible flooding in Queensland, Australia.

All proceeds to be donated to established organizations and appeals (Queensland Government Flood Relief Appeal and/or RSPCA Queensland Flood Appeal and/or Australian Red Cross).

I'm offering fic of at least 1000 words in any of my fandoms, and if that isn't your cup of tea, there are plenty of other cool things up for bidding. The auction ends Wednesday January 26th at 11:59 PM Australian Eastern Daylight Savings Time. (Find out when that is in your time zone.)

I also have drabbles and ficlets on offer in the lightning round; donate $1 or $3 and I'll write you the short fic of your choice. This round is open until Monday January 17th at 11:59 PM Australian Eastern Standard Time.

A bunch of awesome fandomers writing/drawing/iconing/fanmixing to encourage people to donate to a good cause? What could be better? Go CHECK IT OUT!